The heart of Ladakh is the
Leh market
. A street market with many lanes and bylanes, all of which have small shops selling a variety of products. You might find everything here from shoes to clothes and woollen wear to jewellery. Buy carpets to shawls to souvenirs for your friends and family. You will find anything to everything at the
Leh Market
.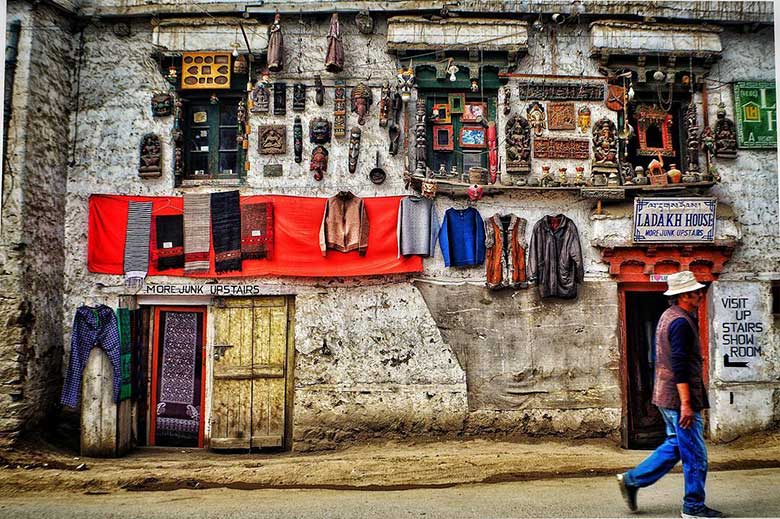 A Tibetan Refugee market is also set up here which sells locks, with unique carvings and artefacts.
Leh Market
also sells sonorous bowls prepared by a combination of nine metals like cymbals, decorative brass and copper trumpets. Find few old ladies selling jewelry and handicrafts in the
Leh Market
. It might be hard to communicate with them but they will always welcome you with open arms.
Some other popular items with tourists are Pashmina shawls, stoles and other woollen garments. Handmade woollen socks, gloves, caps and sweaters are also a favourite of tourists in this region. Then the market is also filled with carpets and hand weaved rugs in a range of prices.
Leh market
, just 5 minutes away from Hotel Nalanda Ladakh is the perfect place to take on some souvenirs from your Leh, Ladakh trip. Apricots that grow abundantly in Ladakh are another popular gift that you can take back as a delicious souvenir from your trip to Ladakh.
Some good venues for shopping in Ladakh are:
∙ Ladakh Art Palace on the Main Bazaar Road
∙ Tibetan Handicraft Emporium on the Main Bazaar Road
∙ Ladakh Environment and Health Organization on the Main Bazaar Road
∙ Tibetan Handicraft Community Showroom in Choglamsar
∙ Cottage Industries Exposition in Changspa
∙ Ecology Centre in Changspa
∙ Women's Alliance in Changspa
Main markets in Leh are:
∙ Tibetan Market off Old Leh Road for clothes
∙ Moti Market near the Leh bus stand
∙ Leh Ladakh India offers tours to Leh and Ladakh.